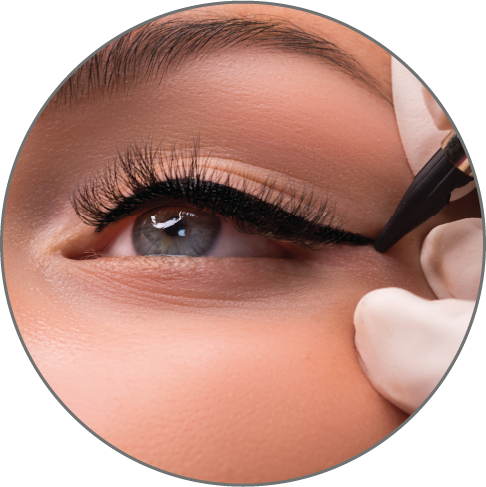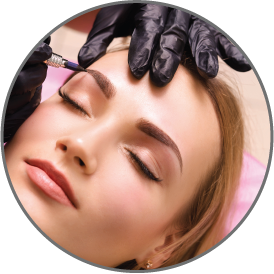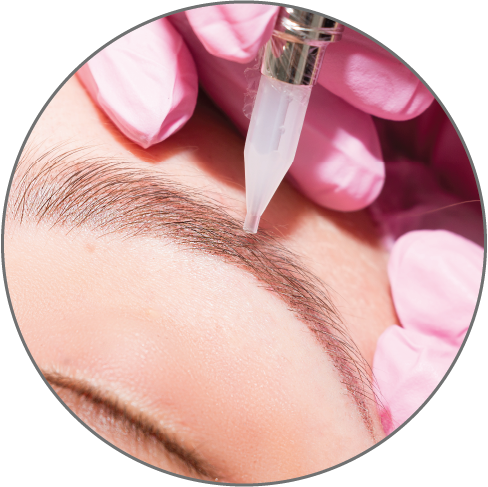 Permanent Makeup
Permanent Makeup and Microblading By Our Las Vegas Spa Specialists
Permanent makeup is the perfect option for people that want to enhance their natural beauty and save time doing makeup on a daily basis. If you're not familiar with it, permanent makeup and microblading is similar to having makeup tattooed safely on the skin of your face, so you don't need to worry about smudging your eyebrows or eyeliner, potentially for years.  At our five-star salon and spa in Las Vegas, we offer several types of permanent makeup services, including eyebrow tattoos, eyeliner tattoos and microblading. Permanent makeup methods like microblading generally last for between 18 and 30 months, so if you like to do your eyebrows and eyeliner every day, you'll save yourself time, money and the stress of worrying about smudging your makeup in the Las Vegas heat for a long time.
Whether you're someone with a busy schedule or just someone interested in always looking your best, permanent makeup may be the perfect option for you. However, every good professional microblading technician should encourage you to have a consultation with them before trying a specialized permanent makeup method like microblading. Book your consultation online at our top-rated spa near the Las Vegas Strip to see if you're a good candidate for permanent makeup and microblading.
How Does Microblading Create the Appearance of Permanent Makeup?
We specialize in microblading as an advanced method of applying permanent makeup in our five-star spa in Las Vegas. The microblading process uses a special tool that allows our experienced and highly trained technicians to apply semi-permanent ink into your skin in a similar way that tattooing is achieved. A microblading specialist creates fine lines that are designed to look like the shape of your own eyebrow hairs, shaping your eyebrows and filling them in where necessary. The perfect eyebrow shape for your face and bone structure is mapped out beforehand, then microblading allows for the eyebrow tattoo ink to be applied in a way that not only fills the desired shape but looks like natural hair.
If you're interested in creating perfect, long lasting eyebrow shaping, microblading will give your eyebrows a fuller, cleaner, and sharper look. However, a skilled microblading specialist will know exactly how to apply the permanent makeup so that it still looks natural. Because this method is semi-permanent and can last for years, it is essential to spend your time finding a highly rated and experienced microblading technician, or the results can get ugly, just like with any bad tattoo artist. Inexperienced microblading technicians can make your eyebrows look blotchy, with lines that are too heavy or look more like dots than eyebrow hairs. Luckily, you've found the best microblading in Las Vegas at our salon and spa near the Las Vegas Strip.
Since everyone's needs for permanent makeup in Las Vegas are different, pricing is dependent upon each individualized procedure. We will always ensure that you are in fact a good candidate for permanent makeup and microblading before determining pricing. So, if you want perfectly manicured brows and have it hassle-free, book your consultation at Skintastic Studio online, today.
Please book a free consultation through our online portal to see if you are a good candidate for permanent makeup or microblading. Pricing will vary depending on the individualized procedure necessary, and not everyone has the texture of skin that will take permanent makeup ink properly. Our professional microblading specialists will never mislead you for your business, so please book a consultation prior. Thank you!
EYELINER BASIC…$300.00
Eyeliner tattoos are a great life hack, saving you time and makeup! Always have the appearance of more defined eyes with a basic eyeliner tattoo application.
MICROBLADING…$500.00
Microblading is the process of creating fine lines that appear to be natural eyebrow hairs, shaping your eyebrows and filling them in where necessary. The perfect eyebrow shape for your face and bone structure is mapped out beforehand for a fuller, cleaner, and sharper look.
EYEBROWS BASIC…$60.00
Basic eyebrow tattoos are a great option for people that like a dark, thicker brow to accentuate their features. This provides a bolder look for the fashion forward.
EYEBROWS CORRECTIVE…$200.00
Permanent makeup is actually only semi-permanent and will need to be touched up eventually. Usually, the time period in between is about a year, but it can be different for everyone depending on the original application technique and your own skin type.